NIGLON CHANGES LIVES WITH £50,000 CHARITY DONATION
1st June 2022
We are thrilled to announce we've handed over £50,000 to support the wide-ranging work of the electrical industry's charity.
You may recall that Niglon became the first ever corporate partner of the Electrical Industries Charity last June – and now, 12 months on, we've handed over what is hoped will be the first of many donations.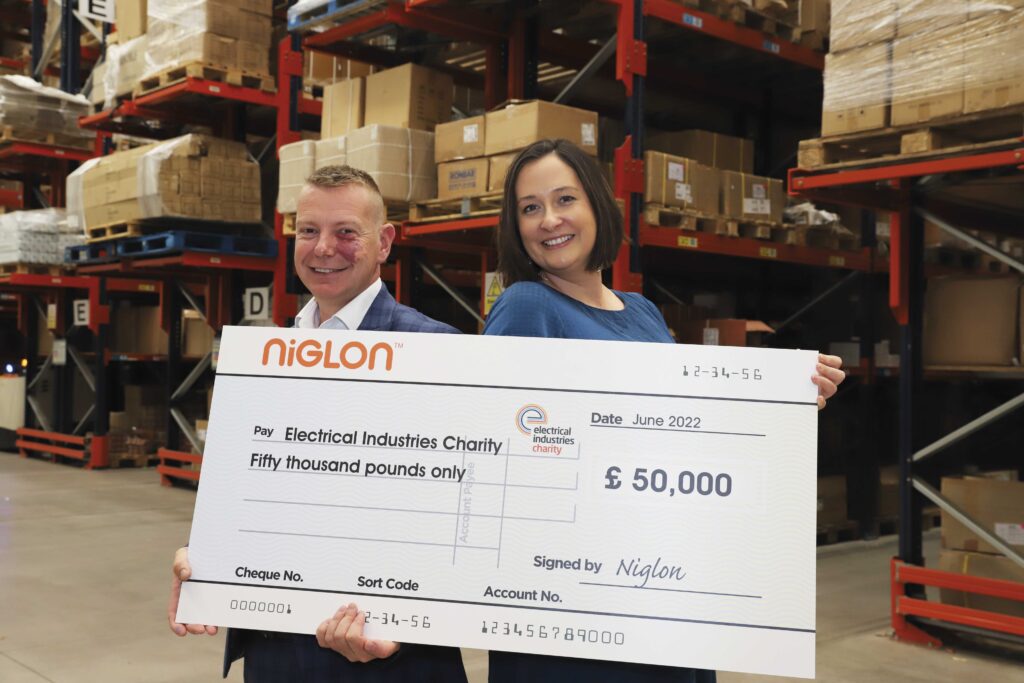 Our Commercial Director Paul Dawson says working alongside the charity has opened his eyes to the breadth of services offered to current and former electrical workers – and their families.
As part of the partnership, we've donated 10% of the profits plus VAT from every single sale of our Median wiring accessories range during the last year.
We've also worked to highlight and spread awareness of the fantastic work of the charity among the industry through traditional media, their company marketing materials, and on social media.
Paul explains: "I've been in the industry for more than 30 years, so have an awareness of some of the struggles facing workers and former workers – whether that's around their health, wellbeing, or career. Sadly, we all know colleagues and peers who have been through tough times – and the hope is always, of course, that someone will be there for you in your hour of need.
"The impact of the pandemic is sadly set to continue for a long time, and we're also now seeing people's finances stretched further than ever due to the cost of living increases. All of this has potentially devastating implications, not only for individuals' financial health, but also their physical and emotional wellbeing too.
"While we were able to continue operating as near to normal as restrictions would allow at Niglon throughout the pandemic, we know all of the team faced their own personal worries and challenges, and we know many across the industry faced a raft of additional problems.
"It was seeing this unfold which led me to think about what I could do as an individual, and what Niglon as a company, could do to give back to the industry. What would have a meaningful impact on our electrical sector peers.
"I wanted to ensure that we didn't just make a one-off donation or a token gesture – that instead we could make a real difference to the lives of the people the EIC sets out to help, and that we could develop a long-lasting partnership with the charity.
"So, when I found out they were launching the commercial partnership scheme, there was no doubt in my mind that this was the answer – an ongoing link which would enable us to make a real difference, and to demonstrate our commitment to the electrical industry and the wellbeing of those within it.
"Linking the donation to our Median range, which is becoming ever-more popular, meant we had ample opportunities to highlight the EIC during the year, spreading awareness of their work alongside building up the donation amount.
"We were delighted to hand over £50,000 to representatives from the charity recently. We really can't thank them enough for their continued hard work when it comes to making sure no one from the industry is alone – whatever problems they are struggling with – but we hope this donation goes some way towards showing our appreciation, and supporting them in their endeavours to help as many of our colleagues as possible."
How will the money be used?
The EIC has been established for more than 100 years, and its aim is to support anyone in need within the electrical industry (including former workers) through a wealth of practical, emotional and financial support – as well as signposting towards specialised services.
Non means tested
General family law legal advice.
Therapy, mental health and bereavement support.
Psychiatric assessments.
Support for those suffering with a terminal illness.
Help with educational needs including dyslexia.
Clinical Occupational Therapy to develop back-to-work plans.
CV advice following redundancy and job loss.
Means tested
Will writing.
Holistic based intervention.
Counselling.
ADHD and ASD assessments.
Grants and financial assistance.
Debt advice.
Apprentice bursary scheme.
Severe illness support with the establishment of a Lasting Power of Attorney.
Their CEO Tessa Ogle said: "We're delighted to have reached a milestone of a one-year anniversary with Niglon for being partners in our Commercial Agreement (CA) Programme.
"Through being a representative of the charity, donations like this make a massive difference to people in our industry who need help when they're experiencing challenging times.
"This will benefit in so many ways, from mental health aid to financial and legal support.
"Thank you for your support, Niglon. We're excited to see what the next 12 months of the partnership will bring."
Contacting the EIC
To find out more about the charity, you can visit www.electricalcharity.org – or if you need to access assistance and you're a current or former electrical industry worker, then you can get in touch by emailing support@electricalcharity.org or calling 0800 652 1618.